1993 Thames River Boating -- Thames Views (General)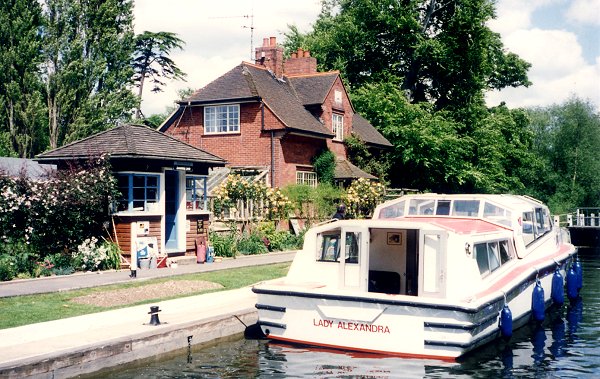 In 1993, while we were between jobs, we enjoyed perhaps the greatest vacation of our lives. We hired a boat and motored about on the Thames River upstream of London.
This page has more "general" photos taken during our trip. Other web pages have images specifically showing animals, plantlife, locking, and so on.
One particular image really caught our imagination. As we motored at 4 mph under a railroad bridge built in the early 19th century, the fastest train of the time (the "Intercity 125") was going over the bridge. At the same moment, the SST was taking off from Heathrow Airport. We could not get a photo of all 3 items, but at least we got a shot of the train and bridge.
Copyright©1993-2019 Robert and Sandra Swanson. I greatly appreciate people viewing the photos, but not stealing them. If someone is interested from a commercial point of view, please contact me.

CLICK ON THE THUMBNAIL IMAGES TO VIEW A LARGER IMAGE