1993 Thames River Boating -- Thames Views (Animals)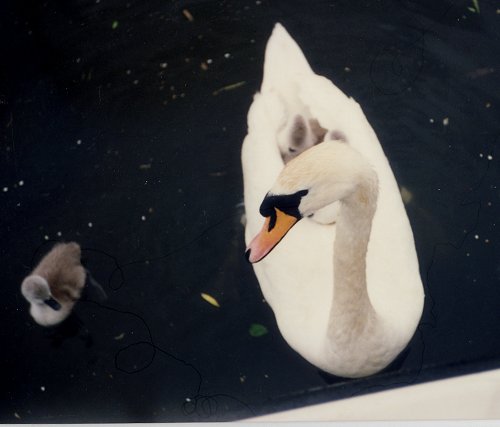 In 1993, while we were between jobs, we enjoyed perhaps the greatest vacation of our lives. We hired a boat and motored about on the Thames River upstream of London.
As noted previously, an English spring was in the air. The fields were full of animal life, including leaping lambs. People walked their dogs along the towpath. There was practice for an upcoming coaching competition at Royal Windsor Park, sight of Windsor Castle. The river was full of water birds leading their babies along as though on a Sunday outing.
The swans really caught our attention. The mothers often let the babies (cygnets) ride on their back. We were particularly fascinated by the size of the swans' feet! They are huge!
And of course there were the ducks. The ducks often hitched rides on our boat, getting aboard at one lock and riding to the next one, acting a bit like commuters.
Copyright©1993-2019 Robert and Sandra Swanson. I greatly appreciate people viewing the photos, but not stealing them. If someone is interested from a commercial point of view, please contact me.

CLICK ON THE THUMBNAIL IMAGES TO VIEW A LARGER IMAGE