1993 Thames River Boating -- Locking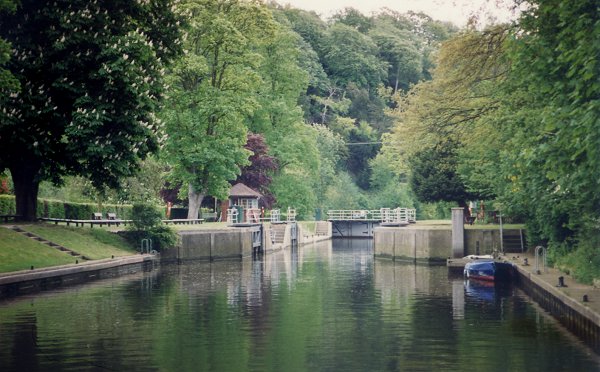 In 1993, while we were between jobs, we enjoyed perhaps the greatest vacation of our lives. We hired a boat and motored about on the Thames River upstream of London.
The most important part of boating on the Thames is dealing with the locks and dams. This river has been under control for hundreds of years, and we observed that the locks and dams are well maintained. One lock displayed a plaque showing how high the water had been in the 1940's during a major flood. All in all, the water management technology was remarkable to see.
The lock-keepers operate on a regular schedule. When they were around, they operated the lock gates and sluices by electric motors. When they were off-duty, we had to crank the gates ourselves. It is a LOT of work! Some of the lock-keepers are in a friendly competition to grow the nicest gardens, and what we saw were beautiful, even early in the season. Some of the locks are in beautifully landscaped areas.
Before this boating trip, we had some experience passing through the locks on the Mississippi River. You have to be careful around the dams; if a boat is swept over the dam, it can be fatal. The drops on many of the Thames Locks weren't that far, but water is a powerful force. We were quite fascinated by the variety of the design of the various spillways that we saw.
Copyright©1993-2019 Robert and Sandra Swanson. I greatly appreciate people viewing the photos, but not stealing them. If someone is interested from a commercial point of view, please contact me.

CLICK ON THE THUMBNAIL IMAGES TO VIEW A LARGER IMAGE