1993 Thames River Boating -- The Lady Alexandra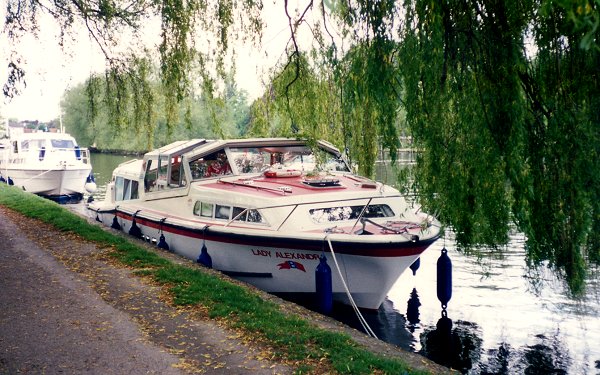 In 1993, while we were between jobs, we enjoyed perhaps the greatest vacation of our lives. We hired a boat and motored about on the Thames River upstream of London.
The "Lady A" was quite a nice boat. Driven by a small diesel engine, there was more than enough power to make the maximum 4 MPH allowed on the Thames. That engine also supplied the hot water for our washing and the diesel was used to make heat when we needed it. Like all Thames boats, she had one very large holding tank for all water, grey-water, black-water, everything. Nothing goes into the Thames, which is why the river is so much cleaner now than a few decades ago. We picked her up in Datchet.
Like driving in the U.K., we did have to get used to the fact that the helm was on the "other" side of the boat from our experience in the U.S. In addition, the propeller turned in the opposite direction. This causes the boat to move differently when in reverse.
One of the features of the "Lady A" that we did not try was her retractable roof. The main saloon can be exposed to the sun during the summer. Unfortunately, we had mixed rain and sun, so decided to not try to run the retraction mechanism.
The "Lady A" was very comfortable. We had cooking facilities, showers, and a spacious main saloon for relaxing. She even had a TV, so we could watch the BBC if we wanted to.
Copyright©1993-2019 Robert and Sandra Swanson. I greatly appreciate people viewing the photos, but not stealing them. If someone is interested from a commercial point of view, please contact me.

CLICK ON THE THUMBNAIL IMAGES TO VIEW A LARGER IMAGE