The Swanson's 2000 Alaska Trip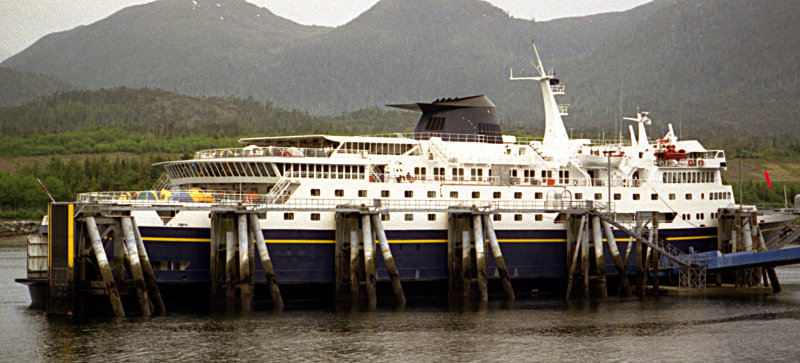 We had a wonderful vacation to Alaska from June 2 to June 16, 2000. We sailed on the "blue canoe", the Alaska State Ferry, from Bellingham, Washington, to Haines, Alaska and returned. This was not a cruise ship, but we saw some ports that usually are not on the cruise ship routes. We saw most of the same umatched scenery that people on cruise ships see, at a much cheaper price. Off the ship, we rented a car and drove from Skagway up to White Horse, over to Haines Junction, and then back to Haines. This "golden triangle" is a spectacular automobile trip. We could not get a ship to Glacier Bay, so had to "compromise" and take a flightseeing trip over Glacier Bay; unforgettable, awesome.
It was June, and the sun was well north. It never got completely dark, with quite a bright sky, even at 3 A.M. The weather was pretty good, considering Alaska, where the weather changes rapidly. This was a great trip, and we recommend it to everyone, regardless of how you get there.
The camera we used for this trip was our previous point-and-click camera. Nice enough, but we love our digital cameras a LOT more. The images you will see are scans of the negatives made on an Epson flatbed with transparency adapter, as well as some commercially-scanned color prints.
---
Photo Albums
Upbound Trip from Bellingham, Washington
Golden Triangle -- Skagway to White Horse to Haines
---
Copyright © 1996-2019 Robert and Sandra Swanson
More Links
---


Page Layout Design Made Possible by: Vanilla.

Updated 14 May 2019