Chasing the UP 4014 'Big Boy' in Iowa and Texas, 2019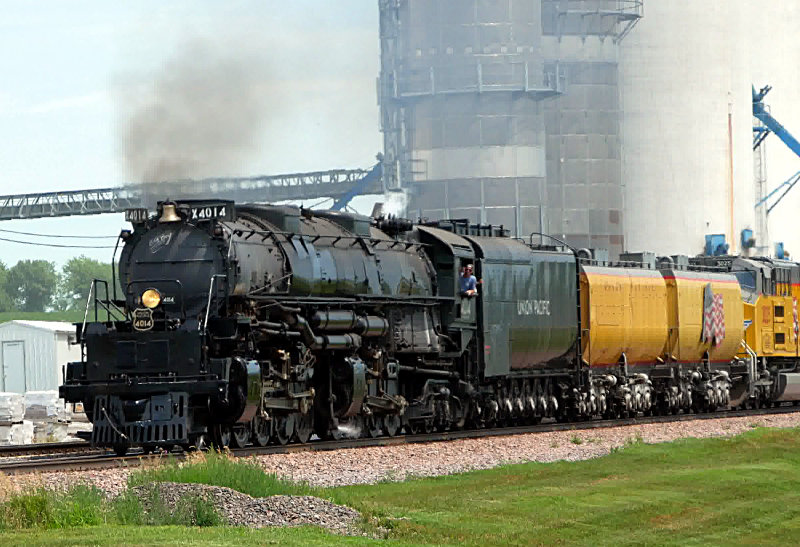 Composite Video From Both Iowa and Texas
Sandra has put together a video with both of the pass-by's.

See: Video of UP4014 Passing By in Both Texas and Iowa [Brighteon]

or, Video of UP4014 Passing By in Both Texas and Iowa [Ipernity]
About Our Iowa Visit
We spent a day "chasing" the Union Pacific steam locomotive #4014, as it pulled a small train across Iowa. This engine was taken out of service in the late 1950's and sat in Pomona, California (my home town) for 50+ years. Recently, Union Pacific got possession, hauled it back to Cheyenne, Wyoming, and restored it to full operation.
Union Pacific is running this train through the MidWest during July-August 2019, and we were fortunate to see it in static display in Des Moines, and then along the tracks as the locomotive sped by. Awesome experience.
Our best vantages were rural crossings, where we could park our vehicle, set up cameras, and wait for the train, all without large crowds. When the train made scheduled stops in towns, there were too many people around for a clear capture. Some enterprising photographers were taking pictures from highway bridges, which looked interesting. However, you only get a few seconds to capture video and photos of the train passing by.
The sound of the steam whistle is amazing, and we had goose bumps ("chicken skin" they say in Hawai'i) just from the sound. We've also added links to a video of the pass-by of the train in Iowa.
About Our Texas Visit
The Big Boy made a run through Texas later in the year. We were fortunate to be in D'Hanis, Texas on November 4, 2019 for another pass-by. We'd been in this lovely small town a few years back, and knew that there would be good viewing. Better yet, the schools had bussed the children over to the old downtown, and the video shows them waving American Flags, as the train rolled by. We have added a video of the Texas pass, along with another whistle sound file.

NOTE that these videos, sound recordings, and photographs are Copyright©2019-20 Robert and Sandra Swanson. I greatly appreciate people viewing the photos and video, but not stealing them. If someone is interested from a commercial point of view, please contact me.
---
Photo Albums
UP4014 Passing Rural Crossing Near Ogden, Iowa
UP4014 Passing Through Arcadia, Iowa
UP4014 in Static Display in Des Moines, Iowa
UP4014 Passing Through D'Hanis, Texas, November 4, 2019
Whistle Recordings
Audio of UP4014 Steam Whistle (1) [mp3]
Audio of UP4014 Steam Whistle (2) [mp3]
Audio of UP4014 Steam Whistle (3) [mp3]
Audio of UP4014 Steam Whistle (D'Hanis Texas) [mp3]
Video of Pass-By in Ogden and Arcadia, Iowa
Video of UP4014 Passing By in Ogden and Arcadia, Iowa [Brighteon]
Video of Pass-By in D'Hanis, Texas
Video of UP4014 Passing By in D'Hanis, Texas [Brighteon]
---
Copyright © 2019-20 Robert and Sandra Swanson
More Links
---


Page Layout Design Made Possible by: Vanilla.

Updated 22 July 2020